Here at Evolutia most of our business comes through word of mouth. That happens to be the nature of the industry we are in. That being said, it never hurts to show up in print media from time to time.
We have recently been featured in a handful of publications, and it has been a great experience. Being in a magazine that has a wide viewership is an awesome way for us to educate more people about the perks of reclaimed and recycled wood.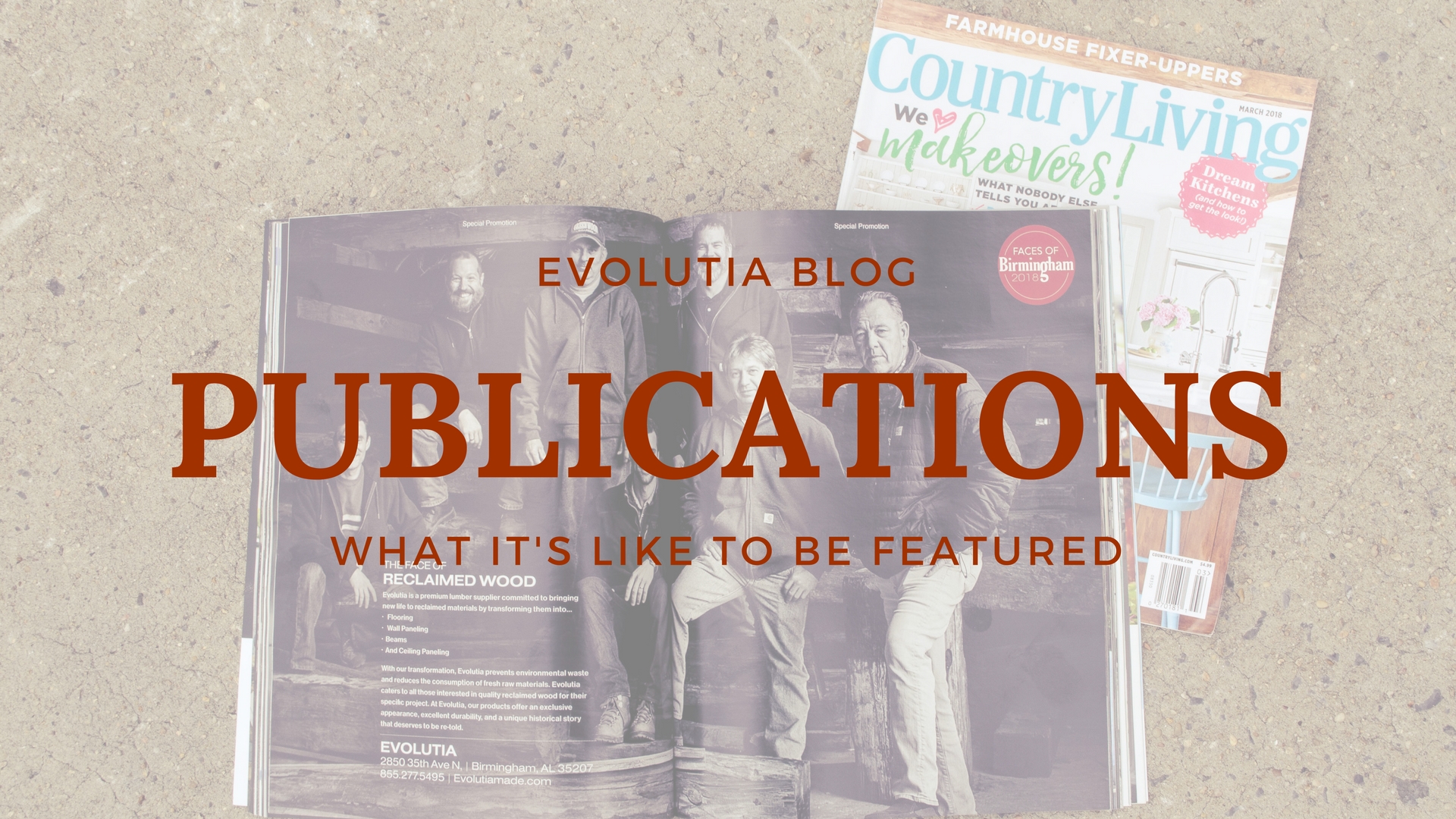 One of our most recent spots was in the March 2018 issue of Country Living Magazine. The article featured a beautiful farm home in upstate New York that was originally built in the 1950s. Designer Debbie Propst put her unique spin on a family home to make it much more inviting, and her main material was reclaimed wood. 
Propst's flooring is at the center of the article, where Country Living has given readers a very helpful buyer's guide on hardwood species and which are best for flooring material. Although the guide is very helpful, it is worth noting that Country Living has forgotten one part of the equation. Antique Heart Pine, arguably Evolutia's most popular product, has a 1225 rating on the Janka scale, which means that it competes in hardness with most Red Oak. That is why Antique Heart Pine can actually make very beautiful flooring material.
Country Living was nice enough to mention us on it's list of six companies across the United States that they would recommend for home owners looking to add reclaimed wood to their next project. For those who love the farm house style, this issue of Country Living is a must-read.
Evolutia was also lucky enough to be featured in the January 2018 "Faces of Birmingham" issue of B-Metro Magazine. A black and white center-fold picture of the Evolutia crew was featured alongside a blurb about what our mission is; recycling beautiful antique wood to create lasting products and reduce waste.
This spot in B-Metro is a great way for us to show our community that we really are a small, loyal company that takes care of it's customers and it's tight knit group of employees. We are all here because we love working with wood, and preserving the history of material that is not only hundreds of years old, but was, in some cases, the actual foundation for the industries that grew America's economy in the early Twentieth Century.
We love being able to share our story and our products with a wider range of people. When we get the chance to add magazines to our repertoire, we jump at it. It gives us a chance to show people what our products look like once they are in a home, shows people the difference between reclaimed material and new wood, and gives readers a glimpse into the tight knit community that is Evolutia and our customers.