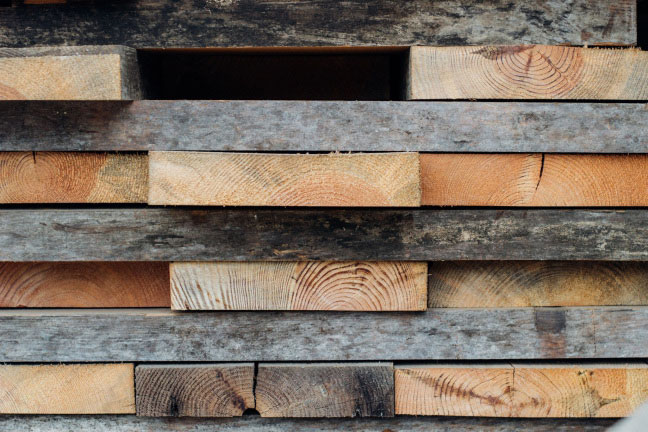 We are all faced with so many options today, & sometimes the overwhelming market can make it difficult to make a decision. With so many new innovations and options to choose from when selecting building materials, how does one decide what to choose?
For an example, let's talk about flooring. You have engineered, laminate, new wood, tile, and the list goes on and on. Many factors come into play like the cost, durability, visual aesthetics, etc. So many things have been replicated and mass produced to the point that we've almost forgotten why we chose these things other than it looks nice. These things are simply things. They hold no meaning or value. It's just another dollar spent.
On that note, let's dive into what makes our material and products different-better-amazing! Instead of telling you what we do better than the next guy, we want to tell you what makes our material and products more than just a dollar spent.
HISTORY: Our material is reclaimed from older structures, and each have its own unique history. The history is an invaluable aspect of all our materials and products. And although we could have multiple batches of heart pine, not all those batches were reclaimed from the same building or own the same history. Because of the history, it goes beyond being "pretty" but gives it a whole new level of meaning-value-worth. To be able to own something that is such a rarity in itself is absolutely priceless.
CHARACTER: Our reclaimed wood is often praised for the unique character whether it's saw marks or a naturally developed patina. Many have tried to replicate these different prized aesthetics, but find that it never seems to come out the same way as the original reclaimed wood. It is the original marks of history that make our material so beautiful. And because it cannot be replicated, it only makes it that much more valuable!
AUTHENTICITY: History and character – the two things that our material and products own that cannot be replicated. You can try to replicate by staining or even get synthetic materials made to look like our materials, but in the end, no matter how hard you try to recreate, it is merely a copy to look like the original. To own the original holds far more worth than owning a look-a-like in our mass produced industry. We all want something that's unique and meaningful rather than something meaningless and empty. To be authentic, it's own unique self. It isn't made to look a certain way or to pretend to be something it's not. No, our material and products are authentic and offered as what it truly is.
What makes our materials and products so invaluable are because they cannot be replicated or massed produced. With so many mass produced goods today, we begin to see the demand shift from disposable, meaningless, same as the next, easily obtained goods to more rare, unique, one-of-a-kind and original goods.
What will you choose?