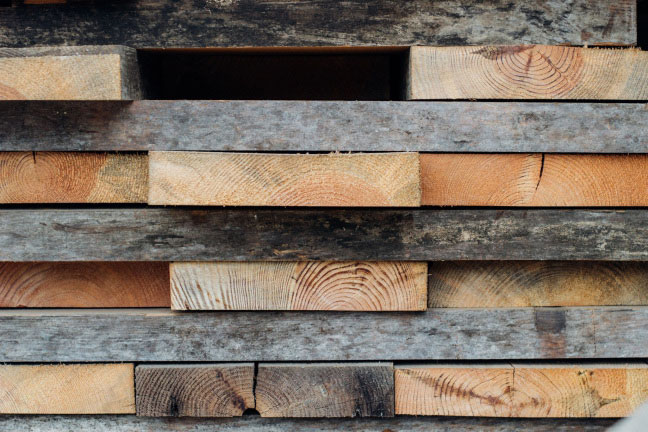 With new innovations and an overwhelming number of options in the home design industry, how does one even begin to decide what building material to choose for their new build or renovation project?
In flooring alone, you have engineered, laminate, new wood, tile, and the list goes on. Factors come into play like cost, durability, visual aesthetics, etc. Replication and mass production are the names of the game. Have we forgotten motivating factors other than aesthetics when we are deciding why to spend our money? We think so, and we have built our company on the knowledge that we can have beauty and simultaneously be environmentally responsible and respectful of the history of the building industry.
HISTORY: Our materials are reclaimed from old, deconstructed structures, and each has its own history. This is an invaluable aspect of all our materials and products. Even though we have multiple batches of heart pine, they weren't all reclaimed from the same building or own the same history. All of its histories take our product beyond being "pretty" and gives it a new level of value.
CHARACTER: Our reclaimed wood is often praised for its character: saw marks, faded paint, and naturally-developed patina. Many have tried to replicate these prized aesthetics but have found that replication is difficult if not impossible. The original marks of history make our material beautiful. And because it cannot be replicated, it only makes it that much more valuable.
The history and character in all of our products are what makes them authentic. The mass-produced, replicated products available in big box stores embody neither history nor character and therefore cannot be authentic. To own the original product that so many producers and consumers are striving to replicate is the desired end result. An authentic home design consisting of materials that are not pretending to be something they aren't, that have histories, and that have proven their resilience is what we offer.
With so many mass-produced goods today, we are beginning to see consumers' wants shift from disposable, meaningless, cookie-cutter products to authentic and one-of-a-kind materials. If you find your home design ideas fall in line with this, we invite you to look through our gallery and see all we have to offer!